The 'Kinetic Sounds' installation is the physical result of a Klankvorm research project on the topic of sound and movement. The project was realized in close collaboration with the Macular Collective after a long trajectory of experiments in which sound sources were rotated to create an interaction between the sound source and the acoustics of the space. The result of the research trajectory is a custom-built sound system that creates immersive and dynamic fields of sound through rotating sound sources. The physical installation consists of a collection of moving speakers that can be placed in various formations in a room. The different speakers in the system all have their own identity in terms of sound and movement. The sound input is reproduced in different ways by means of resonance tubes and pressure chambers. For example, some speakers only reproduce very high sounds, others focus specifically on the low tones within the sound spectrum.
'Kinetic Sounds' can be seen as a mechanical version of an orchestra or as a fully automated ensemble of robotic musicians which all have their own sound, character and movement. Due to the 'open content' character of the installation, makers and artists can compose new sound pieces and live performances for the installation.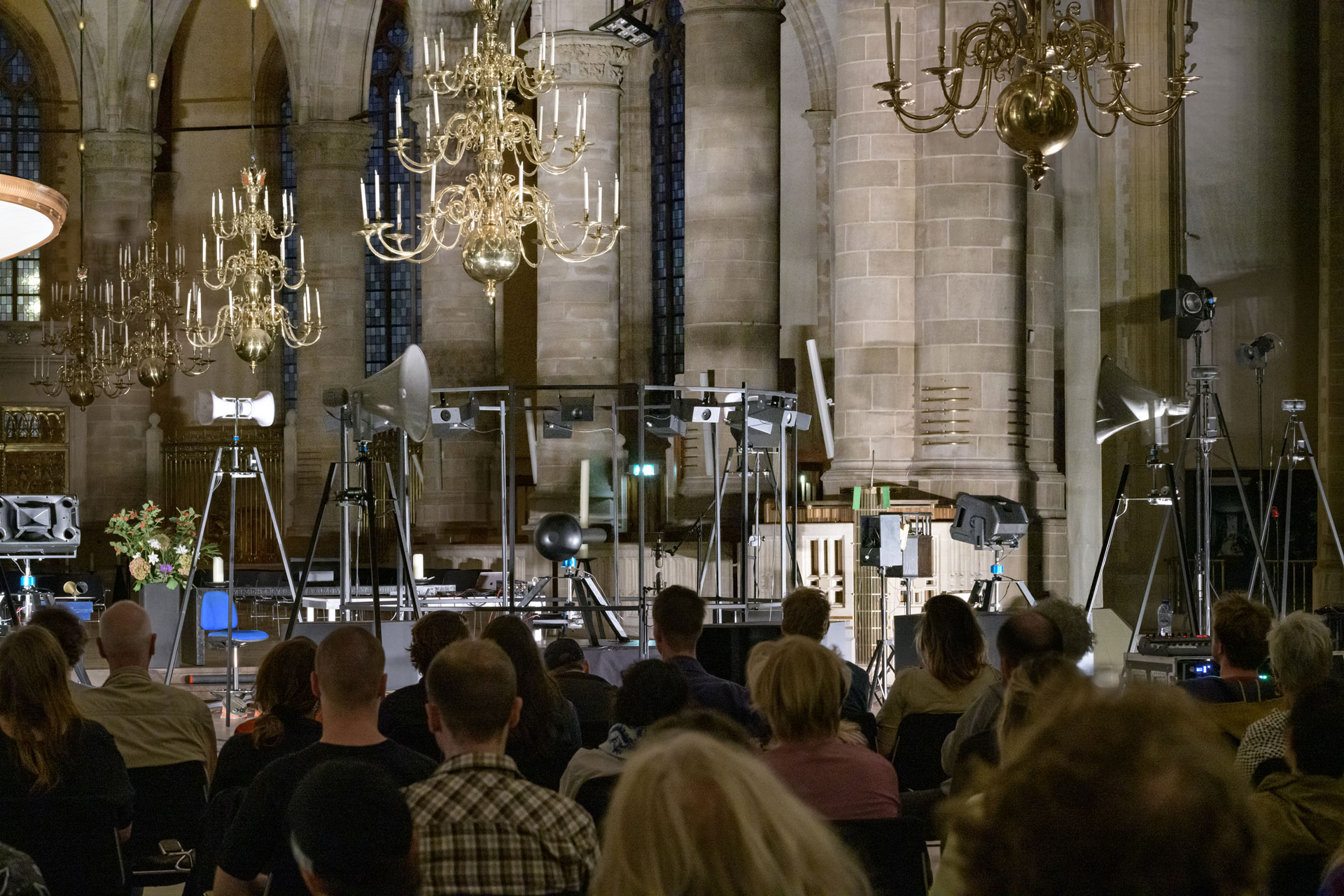 The 'Kinetic Sounds' installation was realized with the goal of creating a transportable and multi-purpose sound system that can be used at various public events. An important part is the 'open content' idea of the installation. Through artist-in-residence periods, makers, musicians and artists are invited to generate new content for the system.
Although 'Kinetic Sounds' mainly focuses on the audience's sound experience, the visual character of the collection of speakers has strong relations with, for example, the functional and minimalist architectural style of the ZERO movement and Constructivism. The movement aspect of the work has a strong relationship with the sound thus creating a cinematographic experience, image and sound are directly linked. The choreography performed by the speakers is as much determined by the artist as is the sound that can be heard.
Concept: Daan Johan, Joris Strijbos, Eelco Ottenhof
Realization: Daan Johan, Joris Strijbos, Eelco Ottenhof, Matthijs Munnik, Jeroen Molenaar, Dineke van Oosten, Thijs Kelder.
Kinetic Sounds is a Klankvorm production and made possible with the generous support of Creative Industries Fund NL, Mondriaan Fund and City of Rotterdam.